Jeffrey Lackner Recorded Webinar- Cognitive Behavior Therapy for Irritable Bowel Syndrome: The Fundamentals of an Evidence-based Transdiagnostic Approach (July 21, 2023)
Register

Non-member - $35
Member - $25
Student - $15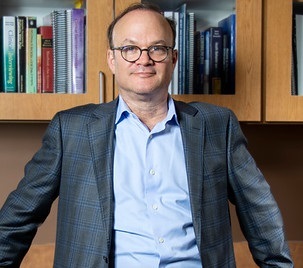 Original Airdate: Friday, July 21, 2023
11:00 am- 12:30 pm Eastern/ 10:00 am – 11:30 am Central/ 9:00 am – 10:30 am Mountain/ 8:00 am – 9:30 am Pacific

1.5 CE Credits Awarded
$15 Student ABCT Members / $25 ABCT Members / $35 Non-Members
Abstract:
Irritable bowel syndrome (IBS) is the most common gastrointestinal (GI) disorder seen by primary care and GI physicians, accounts for considerable personal suffering, and is largely refractory to medical therapies. Its physical symptoms (pain, diarrhea and/or constipation) commonly co-occur with other psychological complaints (e. g. GAD, depression) that behavior therapists effectively treat and thus offer a gratifying way of expanding one's clinical practice. In the absence of any organic cause, IBS is best understood from a biopsychosocial perspective (Van Oudenhove et al., 2016, Gastroenterology) that emphasizes the reciprocal and interactive relationship among a person's biology (e. g., GI motility, pain sensitivity, stress reactivity), behaviors (e. g., avoidance), and higher order central processes (rigid cognitive style characterized by perseverative thought manifested in restricted coping and perceptual biases to threat) that influence GI symptoms. Clinical trials assessing the efficacy of CBT for IBS have established it as a gold standard psychological treatment, yielding dramatic, rapid, broad, and sustained symptom improvement that compares favorably to pharmacological or dietary treatments (Mayer, 2007, New England Journal of Medicine). After a brief overview of IBS, this workshop will describe the conceptual underpinnings of CBT for IBS, its rationale, goals and technical components using didactic instruction and detailed case examples from actual patients enrolled in a landmark NIH trial (Lackner, Jaccard, et al., Gastroenterology, 2018) that affirmed CBT's status as the most widely endorsed empirically validated psychological treatment (Black. et al., GUT, 2020) and arguably the most effective behavioral treatment for any chronic pain disorder. Attendees will learn practical strategies to trouble shoot around difficult clinical issues to maximize outcome, patient engagement, and clinician satisfaction.
About the Presenter:
Jeff Lackner is a clinical psychologist who studies biobehavioral aspects of persistent painful disease at the University at Buffalo (UB). He received his doctorate in Clinical Psychology from Rutgers and completed internship at the University of Texas School of Medicine (Houston). After completing a fellowship in Behavioral Medicine at the University of Rochester, he joined the faculty at UB. As Professor of Medicine and Chief of the Division of Behavioral Medicine at the UB Jacobs School of Medicine, he oversees a division whose clinical, research, and educational activities focus on the interplay of medicine and behavior on health outcomes with a primary focus on this related to chronic pain. Since its founding in 1994, the division's clinical arm has provided state-of-the-art behavioral treatments for chronic pain disorders, including irritable bowel syndrome (IBS), back pain, pelvic pain, fibromyalgia, non-cardiac chest pain, jaw pain, and benign headaches. With NIH support since 1999, his work has informed clinical practice guidelines in the US, Europe, and Asia, earning him fellowship status in the American Psychological Association, Association for Psychological Science, Society of Behavioral Medicine, Academy of Behavioral Medicine Research and American Gastroenterological Association. In addition to cutting-edge research, Dr Lackner maintains an active clinic practice, teaches, and mentors undergraduates, pre and postdoctoral trainees, medical students, fellows, and junior physician-scientists.
Learning Objectives
At the end of this webinar, the learner will be able to:
Understand the nature and symptoms of IBS as well as its economic and personal burden
Understand the conceptual basis for CBT for IBS with a focus on actionable transdiagnostic processes that maintain core gastrointestinal symptoms
Learn how to implement core CBT techniques to improve IBS symptoms and quality of life
Learn the role of non-specific factors, which ones are most strongly related to positive outcome, and how to use them to optimize outcome
Recommended Readings
1. Van Oudenhove L, Crowell MD, Drossman DA, Halpert AD, Keefer L, Lackner JM, Murphy TB, Naliboff BD, Levy RL. Biopsychosocial Aspects of Functional Gastrointestinal Disorders. Gastroenterology. 2016 Feb 18:S0016-5085(16)00218-3..
2. Lackner, J. M., et al. (2018). "Improvement in Gastrointestinal Symptoms After Cognitive Behavior Therapy for Refractory Irritable Bowel Syndrome." Gastroenterology 155(1): 47-57.
3. Radziwon, C. and J. M. Lackner (2015). "Coping Flexibility, GI Symptoms, and Functional GI Disorders: How Translational Behavioral Medicine Research Can Inform GI Practice." Clin Transl Gastroenterol 6: e117.
4. Black, C. J., et al. (2020). "Efficacy of psychological therapies for irritable bowel syndrome: systematic review and network meta-analysis." Gut 69(8): 1441-1451
5. Lackner, J. M. (2020). "Skills over pills? A clinical gastroenterologist's primer in cognitive behavioral therapy for irritable bowel syndrome." Expert Rev Gastroenterol Hepatol 14(7): 601-618.
About the Moderator: Dr. Laurie Zandberg, PsyD is an anxiety and exposure therapy specialist serving residents of PA and PSYPACT participating states via telehealth. She is a Clinical Assistant Professor at the University of Pennsylvania's Perelman School of Medicine in the Department of Psychiatry. Her research collaborations have focused on identifying mechanisms of change and improving access to evidence based treatments for eating disorders, OCD, and PTSD.
*************************
All attendees will receive a certificate of completion when the course requirements are satisfied. Certificates of completion is included in the cost of the webinar
The Association for Behavioral and Cognitive Therapies incurs significant administrative cost related to your registration before a webinar. Therefore, there are no refunds for live webinars. If you unable to attend a webinar, we will provide you with the recorded version after the live presentation (which is still eligible for CE credit). If you wish to cancel or request to transfer your webinar registration to another webinar please email your request to membership@abct.org.
ABCT is approved by the American Psychological Association to sponsor continuing education for psychologists. ABCT maintains responsibility for this program and its content
The Association for Behavioral and Cognitive Therapies has been approved by NBCC as an Approved Continuing Education Provider, ACEP No. 5797. Programs that do not qualify for NBCC credit are clearly identified. The Association for Behavioral and Cognitive Therapies is solely responsible for all aspects of the programs
The Association for Behavioral and Cognitive Therapies is recognized by the California Board of Behavioral Sciences for Marriage and Family Therapist (MFT) to offer continuing education as Provider #4600
Association for Behavioral and Cognitive Therapies (ABCT), is recognized by the New York State Education Department's State Board for Psychology as an approved provider of continuing education for licensed psychologists #PSY-0124
*************************
For more information, contact:
Rachel Lamb, ABCT Membership and Marketing Manager
212-647-1890 ext. 209
rlamb@abct.org
*************************
Key:

Complete

Next

Failed

Available

Locked
Jeffrey Lackner Recorded Webinar- Cognitive Behavior Therapy for Irritable Bowel Syndrome: The Fundamentals of an Evidence-based Transdiagnostic Approach (July 21, 2023)
Open to view video. | Closed captions available | 90 minutes
Open to view video. | Closed captions available | 90 minutes
12 Questions | 2 attempts | 10/12 points to pass
12 Questions | 2 attempts | 10/12 points to pass
New York State Social Worker Certificate
1.50 credits available | Certificate available
New York State Psychologist Certificate
1.50 credits available | Certificate available
1.50 credits available | Certificate available
1.50 credits available | Certificate available
1.50 credits available | Certificate available
| Access Date | Quiz Result | Score | Actions |
| --- | --- | --- | --- |